Closures REL-24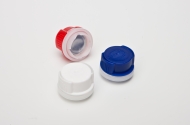 Closures suitable for REL filling aperture 24 mm.

The ergonomically shaped cap, type vul/sk 24/12 has 1 shape for both the child-proof and the not child-proof version. With only 1 closing head you can easily process both versions. Besides this closure has the CSEF-quality mark (child safe, elderly friendly) which makes it suitable for all target groups. It is the only closure with an internal aluminium seal which guarantees a 100% vapour-tight closure of your product.

Round screw taps are available in several colours, child-proof versions are available on request.