Closures DIN-32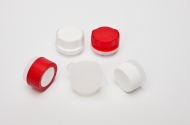 Closures DIN-32
Closures suitable for DIN filling aperture 32 mm.

Screw taps with ergonomic top cap are CSEF certified. As there is no difference between normal and child-proof closures, only 1 closing head is required for the automatic processing of both versions.

The new ALUPEEL system guarantees a 100% vapour-tight closure of your storage items. If you remove the guarantee seal, you will automatically pull open this aluminium closure.

Pull-up spouts N2 in transparent crossed linked version are an improved plastic which protects the spout better than classic methods (such as irradiation and fluorination), however keeps its flexibility.