Closures REL-42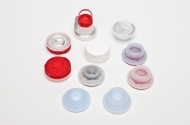 Suitable for REL filling aperture 42 mm

Screw taps with ergonomic top cap are CSEF certified. As there is no difference between normal and child-proof closures, only 1 closing head is required for the automatic processing of both versions. These screw taps are available with aluminium seal on the inside of the bottom cap and therefore guarantee a 100% vapour-tight closure of your storage items.

Pull-up spouts or flex spouts completely disappear in the cap. During opening, you will pull out the flexible spout and the product can be poured. Pull-up spouts of type PA have strips on the inside enabling a more controlled and steady pouring.
New: pull-up spout with external alu-seal. This model can be opened easier thanks to its improved shape and avoids evaporation of our product. In this way, many problems can be avoided, especially for export- and container transport.