Closures plastic cans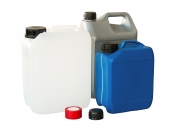 At our customer's request we also have an assortment of plastic bottles and cans in stock.

Below survey will show you our stock range for bottles and containers with neck shape 38 mm, the most standardized thread.

Our assortment is much wider. If you send us the dimensions and/or drawing of your packaging we can select the most suitable closure for you. We offer a suitable solution for practically any product and packaging.