Drums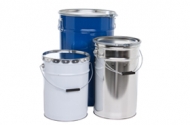 We have two types of drums in our range suitable for your filling good and use. The body is made ​​of steel and its thickness varies between 0.5 and 1.0 mm. The drums are available with an UN approval. Available content sizes are from 30 to about 200 liters.
Tight Head Drums
The tight head drums have a fixed lid with a Tri-Sure opening.
Open Head Drums
These drums have a removable lid and can be closed with a ring latch. It is also possible to apply a Tri-Sure opening in the lid. This opening may be used for filling. Because the lid is detachable, the filling good can, at a later point in time, be stirred or mixed.